How to send a cheap package from Switzerland ?


Whether it is a professional package or a gift, there are many options available to you when it comes to sending a package. So, if you are looking for the best way to send a parcel from Switzerland or to ship an international parcel at attractive prices, then this article is for you.
Option One:
The Swiss Post for shipments in Switzerland
Swiss postal services are recognized for their reliability and loss rate of less than 0.1% when it is considered that the Swiss Post has shipped more than 120 million packages last year.
Here are the different services offered by the Swiss Post for shipments in Switzerland: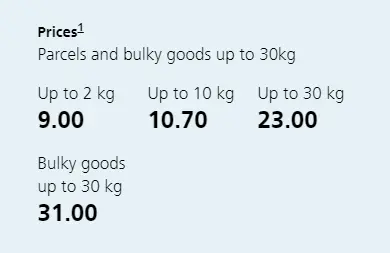 Remember that if you want a delivery against signature for more security, you must add 2 CHF for each package shipment.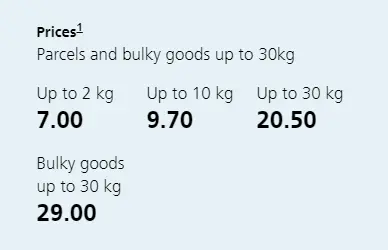 As for PostPac ECONOMY, you have to add 2 CHF for the delivery in exchange for a signature.
These services of postal mailings against signatures are very useful for the shipments for the companies. In fact, saving on parcel shipments is very good, but sometimes, it is better to pay a few more CHFS and get an additional guarantee that the package will be delivered to the right person.
Option Two:
International carriers for shipments abroad
However, for international shipments, the Swiss Post will no longer take care of your packages but the local posts . Therefore, if your package gets lost, whatever the price you paid, you will have paid too much for the delivery of your package.
There are many advantages to using private carriers for package shipments abroad.
First advantage, the reliability: the carriers have their own road network and air freight, which guarantees an excellent follow-up of the transfer until the delivery of the parcel at home in the country of destination.
Second advantage, the pickup at home: no matter which carrier you choose, the removal of the package is done directly at the office or home during a convenient time slot which avoids going to the Post Office and an endless waiting at the counter.
It is for this type of mail that there are large groups of international carriers, the best known of which are:
DHL
FedEx
UPS
TNT
DPD
Aramex
Each carrier has strengths in specific locations around the world. For example, DHL is very efficient for parcel shipments in Africa. FedEx and UPS have an excellent distribution network in North and South America. Think of them for your package shipments to the USA. Regarding parcel shipments in Europe, TNT offers an excellent service.
Do you know Aramex? If you have shipments for the Middle East, know that Aramex is specialized in this type of shipments. These international carriers offer very reliable services, but how can you use them for less? Expedismart.ch allows companies that make a few shipments but also individuals to benefit from discounts between 40% and 60% of the normal price offered by carriers.
This is possible thanks to the amount of packages sent by Expedismart.ch, which allows us to negotiate volume discounts from each carrier.
How to send a cheap package from Switzerland?
Ask yourself the right questions…
How to pack my parcel in order to save money?
The most important thing is to choose a packaging that fits your merchandise!
If you want to save a maximum, make your own packaging…
To properly pack your parcel by its own means, check that the object to be shipped is in a solid carton, nothing should exceed your packaging!
You can use old moving cartons, or a carton from your last Zalando or Amazon order.
A little advice, avoid handmade packaging in too complex forms and prefer the use of cardboard boxes.
Make sure the goods must also be well stuck in the box! Do not hesitate to use old newspapers to immobilize it.
Protect the corners properly.
Finally do not forget, a badly packaged merchandise is a package that is not sure to arrive at your destination!
If you opt for a cardboard ready to send, here are several choices:
The Swiss Post offers packaging in different formats that you can buy directly at the nearest post office or on their website, delivery within 48h.
International private carriers, DHL, TNT, FedEx, UPS, DPD, Aramex can also provide you with free shipping cartons if you ship with their services from Expedimart.ch.
To save on your packaging you should also be familiar with the concept of volumetric weight.The volumetric weight of a shipment is a calculation that expresses the density of a package. A low-density item can take up more space than its actual weight. The volumetric weight is calculated and compared to the gross weight of the shipment to identify, which is the most important. The highest weight is used to calculate the cost of shipping.
To calculate the volumetric weight of your package, the calculation is simple:
Lenght (cm) x Width (cm) x Height (cm) = Volume
Volume/5000 = Volumetric weight
Note to remember: choose a packaging size to avoid increasing the volumetric weight of your package.
To save on your shipment,
it is important to ask the good questions
Is it a national shipment or an international shipment?
For a standard shipment in Switzerland, the services of the Post are certainly cheaper and just as fast as a private carrier.
For a shipment abroad it is not recommended to use the postal services, you expose yourself to the loss of your package or to significant delays.
Is my shipment of great value?
If so, it is advisable to use a private carrier and insure your package.
If so, do you not prefer to use a courier who will come at your convenience to pick up your parcel at home? Which will save you a trip, in a suitable vehicle. Not everyone has a van available…
My package weighs more than 30kg?
Concerning shipments over 30Kgs, the Swiss Post will no longer handel them. Check out Expedismart.ch and choose a low-cost carrier.
Here is an example of the price of an urgent parcel for France with the Swiss Post: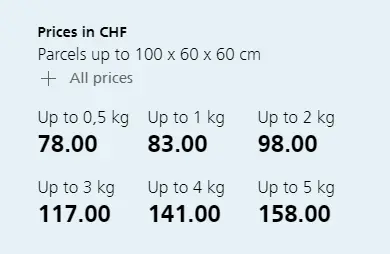 And here is an example of the price you can find on Expedismart of the price of an urgent parcel for France, delivered sour 24h, with carriers such as FedEx, UPS or TNT: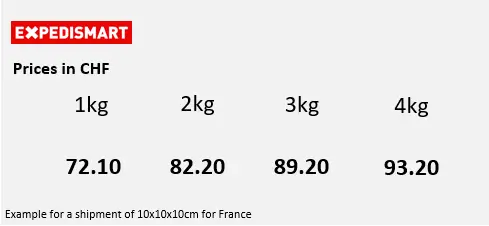 Expedismart can offer attractive prices with express carriers such as FedEx, DHL, or UPS because the company gathers the parcel and document shipments of thousands of Swiss SMEs and individuals and negotiates for them the prices you will see displayed on the online comparator. All Expedismart customers thus benefit from competitive prices and a customer service that is attentive to their every question related to their shipments. The use of the site is completely free, users only pay the price of the shipment.
Important: Avoid false savings. Sometimes it is better to pay a few francs more for insurance. On Expedismart, you can insure your goods up to a declared value of CHF 100'000. A lost, damaged parcel can cost you much more.