How to track my shipment ?


How to track my shipment?
You just sent an important and urgent package ? Your package must arrive in the US, in France, in Italy or at another destination? You wonder where your package is at the moment? Here are some information that can be useful as you ship with DHL, FedEx, UPS or TNT.
How to follow my parcel? The tracking number
Each shipment that you do is associated with a tracking number. This tracking number is a unique identification number, which allows you to follow your package online. It is a way for the carrier to formally identify your shipment. When you call the carrier with whom you are sending your package with or if you go on the website, never forget to keep this number with you.
Clever tip: Give this number to the receiver of your package. That way, when the package arrives in the destination country, he will be able to contact the carrier himself in case of issues at the boarder or to arrange the delivery time.
How to follow my package?
Where to find the tracking number?
How to find my package? Through the tracking number which is written on the AirWayBill (AWB). This transport document that you receive at the shipping confirmation, usually includes a bar-code, as it will be scanned during the travel.
Here is an example of the AWB of FedEx :
How to trace a Post package?
To follow a package, you just have to enter your shipping number on the following link : https://service.post.ch/EasyTrack/?lang=fr#simpleSearch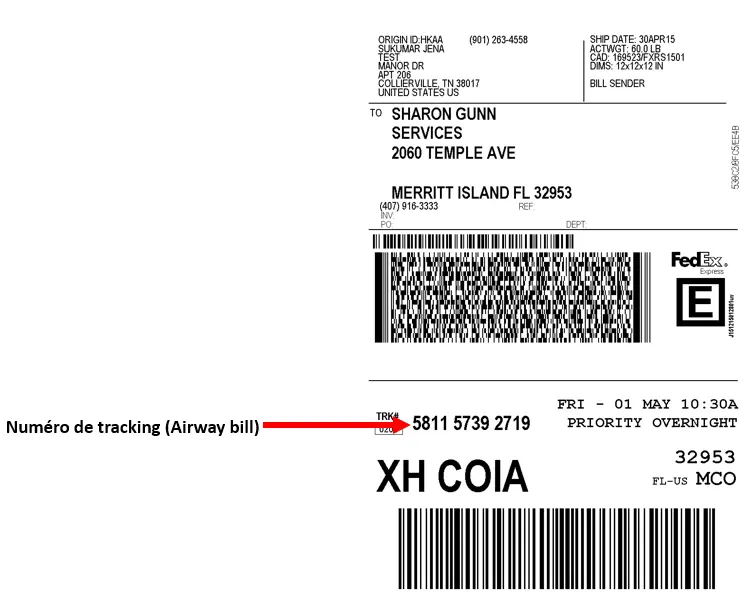 How to find a package sent through a private carrier?
To follow a package, you just have to enter your shipping number on the following links :
How to follow my package?
The possible issues…
Following my package, making sure the shipping has been done, such activities can be complicated, especially if you are not familiar with the carrier environment. In order to get some information from them, you sometimes have to insist or shipping often enough to have good relationships with them.
If you do not wish to take care of the tracking of your package yourself, have Expedismart.ch do it for you. On Expedismart.ch, you make every shipment, private or professional, at very attractive prices and we will take care of the tracking of packages and documents for you. You will not have to ask yourself anymore "Where is my package?" When your package has arrive, you will simply receive a notification per email.
Try by yourself and make a test, it is free.
Choosing Expedismart.ch, it is choosing the easiest and cheapest way. We take care of your packages, from the pick up to the delivery in person.