Which logistics solution for e-commerce from Switzerland?


Which logistics solution for e-commerce from Switzerland?
Which logistics solution for e-commerce from Switzerland to international markets? Are you involved in e-commerce and send several parcels from Switzerland to foreign countries? How about using the cheapest carrier comparison tool to make your shipments cheaper? Your FedEx, TNT, UPS or Aramex shipments at the best rate.
Swiss e-commerce,
more and more in demand
E-commerce is becoming more and more important in our lives as consumers, and studies on this subject prove it: this windfall will amount to 10 billion francs in 2018, an increase of 10% compared to last year.
As a consumer, this allows you to have the same product delivered to you as in a store without having to go out of your way.
But as a seller, it represents a whole organisation: preparing orders, packaging them, dispatching them, ensuring follow-up…
And as long as you are an e-commerce site that receives several orders per day, you will need a trusted logistics partner.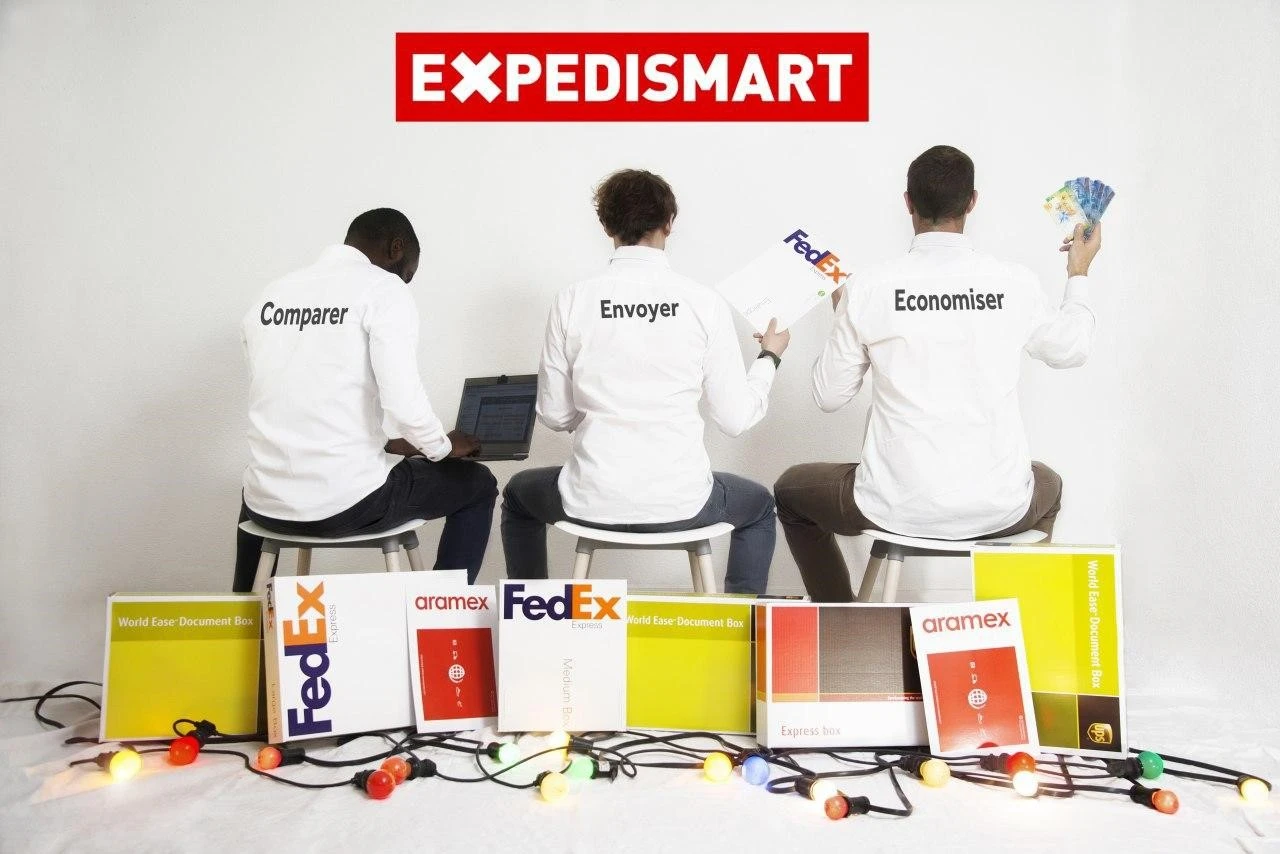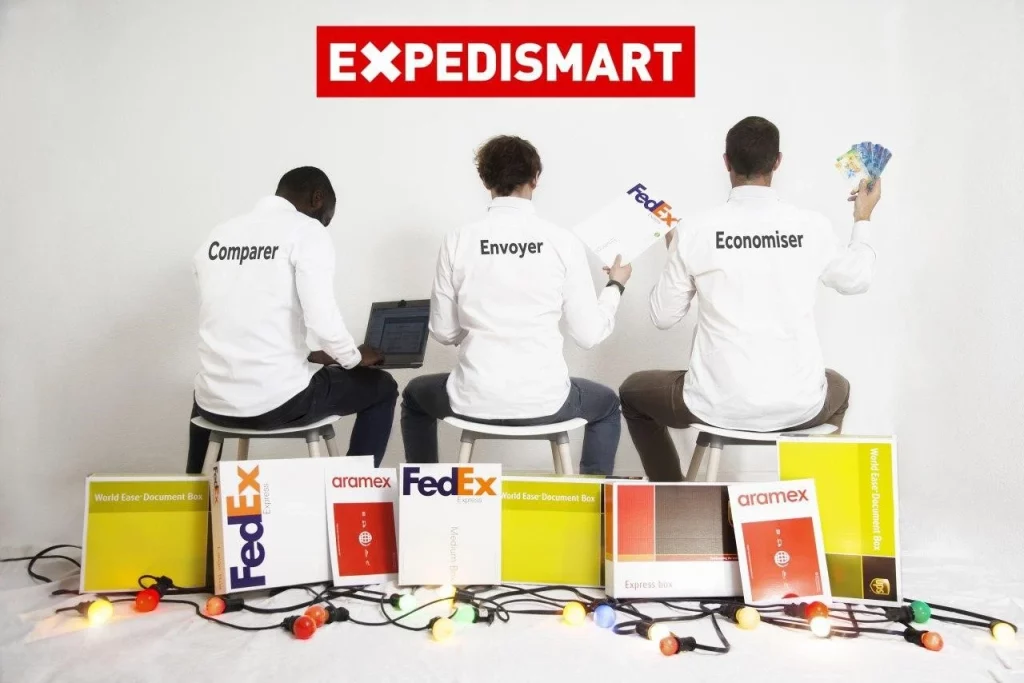 Your FedEx, TNT, UPS, and Aramex shipments at the best rates.
This is where our Expedismart platform comes in:
The creation of an account is free and without commitment, allowing you not to penalize you even in the months of low activity: you pay only in case of shipments;
You have a FedEx, UPS, TNT and Aramex comparator in real time: one will be the most advantageous for Asian destinations but maybe another will be cheaper for the United States for example, allowing you to always benefit from the lowest price for your shipment from Switzerland;
Cheap express shipping for emergencies or economy shipping, choose the carrier and service of your choice;
No more need to transport your 15 parcels to the Post Office, our carriers save you time and carry out the collection at your premises directly, the same day if necessary.
Your logistics management solution at the best price is just a click away!
Booking is simple and fast, you can make your proforma invoice in a few moments if you don't have one, as well as other documents to be attached to each parcel such as the customs declaration document CN22 or even CN23 (document detailing the contents of your parcel, the value as well as the sender and the recipient) but don't be afraid, the process is explained to you in all simplicity when you book the desired carrier. To facilitate the shipment, please be as precise as possible in the description of your package even if it is not very precise (blue jeans men's size 42 worn brand X worth X CHF for example).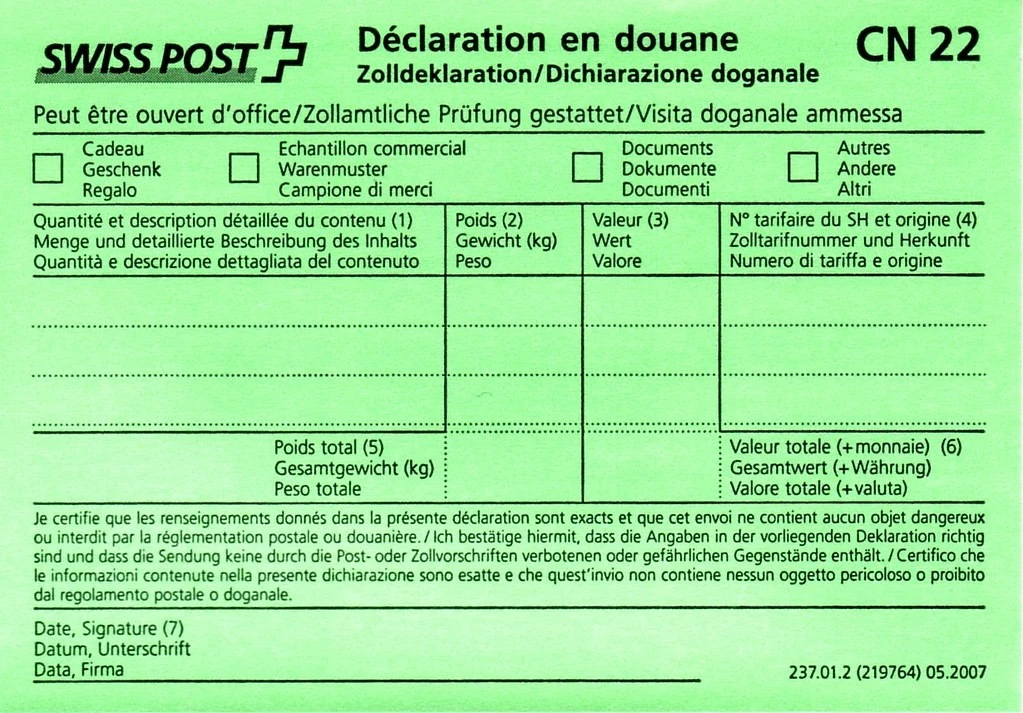 What to do in case of a package blocked at customs?
During the transport of your shipments from Switzerland to abroad, we take care of the tracking and tracing of express parcel shipments and become the main contact for customs and transporters, saving you time and allowing you to concentrate on your core business.
Whether the proforma invoice of the parcel is incomplete, or if documents are missing that cause your parcel to be blocked at customs, we will take the necessary steps to unblock the parcel at customs as quickly as possible, and all this free of charge.
The cheapest international parcel service for e-commerce in Switzerland
Take advantage of the integration of our new service provider Post.int, which uses the postal network and is fully adapted for economical parcel delivery from Switzerland.
Pick up is on demand thanks to our partner TNT, allowing you to collect and send parcels at the same time: some companies prefer two pick-ups per week, while others choose one per day. You decide according to your activity.
What should I do if my packages are lost/damaged?
Our partner AXA is there for you! You have the possibility to insure each express parcel before sending it abroad for only 1% of the declared value of the parcel: if you declare a good at 2000 CHF, you can insure the shipment for a value of 20 CHF. In case of lost or damaged parcel, you will be reimbursed on the declaration.
The FedEx, TNT, UPS and Aramex comparator in a nutshell?
To sum up, Expedismart is:
A free account creation;
Discounted rates on international letters and parcels without obligation;
An offer adapted to e-commerce sites: take advantage of the La Poste network and its rates coupled with the collection of your parcels within your company;
Inexpensive shipments from Switzerland;
Time saving when booking (only a few minutes);
A customer service at no extra cost based in Geneva which takes care of the tracking of your shipments as well as the management of parcels blocked in customs.